null Sant Pau guanya el primer premi del congrés anual europeu dESTRO
Events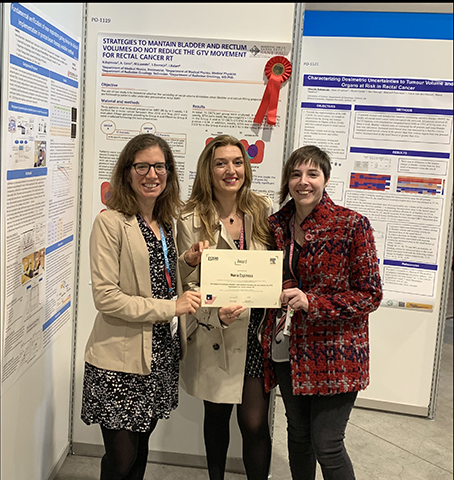 12/05/2019
Sant Pau guanya el primer premi del congrés anual europeu d'ESTRO
El passat 27 d'abril, al congrés anual europeu de l'European Society for Radiotherapy and Oncology (ESTRO), el comitè científic internacional va concedir un primer premi, dins de l'àmbit dels tècnics de radioteràpia i dosimetria, al treball presentat per la tècnica dosimetrista Nuria Espinosa, del Servei de Radiofísica i Radioprotecció de l'Hospital.
La rellevància clínica del treball premiat, "Strategies to maintain bladder and rectum volumes do not reduce the GTV movement for rectal cancer RT", resideix en una millora de la radioteràpia (IMRT/VMAT) preoperatòria pel càncer rectal. L'estudi avalua la reproductibilitat diària en la posició dels tumors rectals segons les estratègies de control del volum vesical i rectal. Es conclou que es requereix un seguiment per imatge en temps real durant el tractament. Aquest treball és un exemple clar de la importància i el paper dels tècnics en el procés de la Radioteràpia, i de com els estudis científics d'aquest tipus ajuden a millorar la pràctica clínica.
Van optar al premi més de 2.200 treballs presentats. Aquest primer premi és un treball multidisciplinar en el que també van participar el Dr. Josep Balart (Oncologia Radioteràpica), la tècnica Anna Coral (Radiofísica i Radioprotecció) i la radiofísica hospitalària María Lizondo (Radiofísica i Radioprotecció).
Banner Butlleti Sant Pau Ara