null Recerca de Sant Pau participa en el projecte duna prova diagnostica per millorar la vigilancia i latencio als pacients de COVID19
Events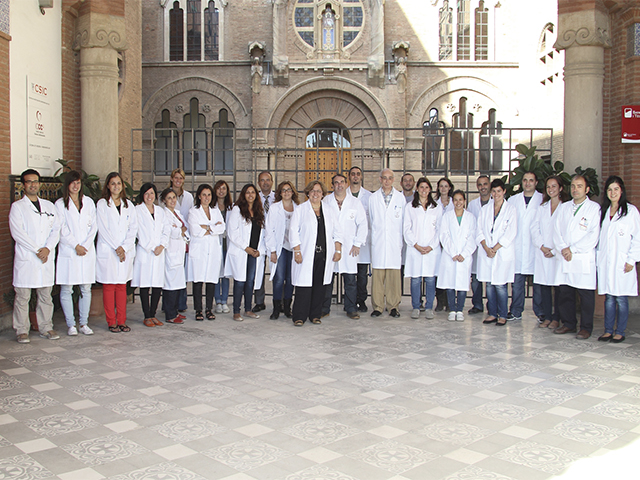 17/11/2020
Recerca de Sant Pau participa en el projecte d'una prova diagnòstica per millorar la vigilància i l'atenció als pacients de COVID-19
L'equip del Grup de recerca Patologia Molecular i Terapèutica de les Malalties Aterotrombòtiques i Isquèmiques "Programa ICCC Cardiovascular", liderat per la Dra. Lina Badimon, de l'Institut de Recerca de Sant Pau-IIB Sant Pau, participa en el projecte COVIRNA, que coordina el Luxembourg Institute of Health (LIH). Aquest és un dels 23 projectes de recerca que s'han adjudicat en el marc de la convocatòria Horizon 2020 call for Expression of Interest. El treball té com a objectiu fomentar el desenvolupament d'una nova prova diagnòstica per predir els resultats de la COVID-19 per als pacients i millorar la cooperació entre institucions de recerca europees per enfortir la resposta a la pandèmia.
El passat 19 de maig de 2020, la Comissió Europea va llançar la Segona Convocatòria d'Expressió d'Interès per a enfocaments innovadors i ràpids relacionats amb la salut per donar resposta al COVID-19 i oferir resultats ràpids a la societat per a un major nivell de preparació dels sistemes sanitaris (SC1-PHECORONAVIRUS-2020-2) en el marc del Pla d'Acció ERAvsCORONA. En aquesta convocatòria es mobilitza un pressupost global de 128,2 milions d'euros, principalment procedent de l'Horizon 2020 (H2020) Framework Programme en el marc del compromís de la Comissió de 1.400 milions d'euros amb la Resposta Global del Coronavirus. Complementant una primera convocatòria orientada a avançar en el coneixement del SARS-CoV-2 en relació amb les possibles mesures clíniques i de salut pública, aquesta segona convocatòria es va centrar en el desplegament ràpid (d'aquí a 3-24 mesos) de solucions tecnològiques basades en la salut per gestionar i contenir aquest brot actual i futur.
En aquest context, i basant-se en la xarxa desenvolupada dins d'EU-CardioRNA ("Catallyzing transcriptomics research in cardiovascular disease") COST Action, un consorci de 15 socis de pimes acadèmiques i innovadores va votar la seva experiència i recursos (sobretot proporcionant accés a diverses cohorts clíniques europees de COVID-19) per construir un estudi multidisciplinari i multicèntric amb l'objectiu comú de millorar la vigilància individualitzada, l'atenció i el seguiment dels pacients de COVID-19 en el context de la pandèmia actual.
Amb el tema SC1-PHE-CORONAVIRUS-2B (Tecnologies Mèdiques, Eines Digitals i Intel·ligència Artificial (IA) per millorar la vigilància i l'atenció a alts nivells de preparació tecnològica), el projecte COVIRNA va començar al novembre de 2020 i durarà 24 mesos.
Banner Butlleti Sant Pau Ara