null L'oxigenoteràpia nasal d'alt flux i el sistema venturi són igual d'eficaços per prevenir la reintubació en pacients amb hipoxèmia post extubació
Events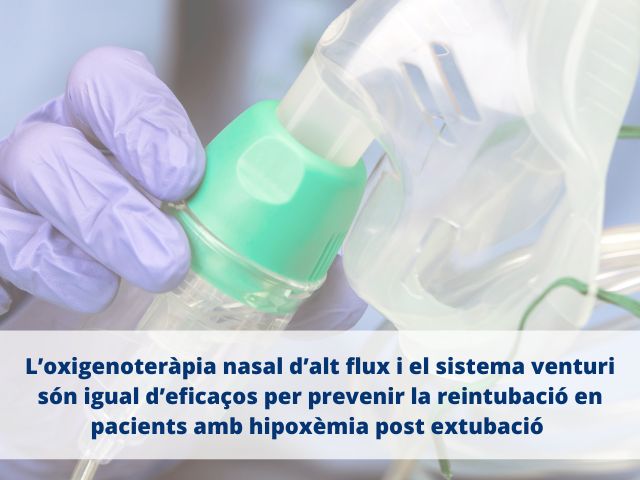 28/09/2022
L'oxigenoteràpia nasal d'alt flux i el sistema venturi són igual d'eficaços per prevenir la reintubació en pacients amb hipoxèmia post extubació
Sant Pau ha estat l'únic centre de l'Estat espanyol en participar, juntament amb 12 altres hospitals europeus, en un estudi segons el qual l'oxigenoteràpia nasal d'alt flux i el sistema venturi tenen la mateixa eficàcia a l'hora de prevenir la reintubació a les 72 hores i als 28 dies de l'extubació en pacients amb hipoxèmia post extubació. El treball s'ha publicat a la revista American Journal of Respiratory and Critical Care Medicine.
En l'estudi, multicèntric, aleatoritzat i controlat, dut a terme entre el juny del 2014 i l'octubre del 2016 en 13 hospitals europeus: 4 d'Itàlia, 7 de França, 1 de Grècia i 1 de l'Estat espanyol, concretament l'Hospital de Sant Pau, hi ha participat un total de 494 pacients amb hipoxèmia post extubació –243 tractats amb oxigenoteràpia d'alt flux i 251 amb la mascareta de sistema venturi. Segons els resultats, no hi ha hagut diferències significatives pel que fa a l'índex de reintubació a les 72 hores i als 28 dies entre els pacients amb insuficiència respiratòria tractats amb aquestes dues tècniques post extubació.
Al cap de 72 hores de ser extubats, un 13% dels pacients tractats amb oxigenoteràpia d'alt flux i un 11% dels tractats amb la mascareta venturi van necessitar ser reintubats. Als 28 dies, aquests percentatges van ser del 21% i del 23%, respectivament.
Una altra dada a destacar és que la necessitat de ventilació no invasiva de rescat -amb criteris d'indicació predefinits- va ser significativament més baixa en el grup tractat amb oxigenoteràpia d'alt flux comparat amb el grup tractat amb la mascareta venturi: a les 72 hores, un 8% davant d'un 17% i, als 28 dies, un 12% davant d'un 21%.
La mascareta venturi és un dispositiu d'alt flux que mescla l'aire i l'oxigen mitjançant l'efecte venturi: aquesta mascareta té el mateix format que les simples, tret de que incorpora un petit dispositiu situat en la part inferior que, mitjançant una finestra regulable, permet ajustar la fracció inspiratòria d'oxigen o concentració d'oxigen inhalat que es vol administrar al pacient. També té un parell d'orificis en la part superior que permet expulsar l'aire espirat.
Cal tenir en compte que el procés d'alliberament de la ventilació mecànica i l'extubació són procediments crítics que requereixen un abordatge sistemàtic un cop la fase aguda de la malaltia s'ha superat i es compleixen tot un seguit de criteris clínics d'estabilitat ben definits. Sota les millors condicions la reintubació pot ser necessària fins en el 15% dels casos i està associada a un augment del risc de complicacions i mortalitat.
Aquest estudi que lidera Sant Pau, compta amb la col·laboració del l'Institut d'Investigació Biomèdica Sant Pau – IIB Sant Pau i la Universitat Autònoma de Barcelona.
Referència bibliogràfica
Am J Respir Crit Care Med. 2022 Jul 18. doi: 10.1164/rccm.202201-0065OC. Online ahead of print.

High-Flow Versus VenturiMask Oxygen Therapy to Prevent Re-Intubation in Hypoxemic Patients After Extubation: A Multicenter, Randomized Clinical Trial
Salvatore Maurizio Maggiore, Samir Jaber, Domenico Luca Grieco, Jordi Mancebo, Spyros Zakynthinos, Alexandre Demoule, Jean-Damien Ricard, Paolo Navalesi, Rosanna Vaschetto, Sami Hraiech, Kada Klouche, Jean-Pierre Frat, Virginie Lemiale, Vito Fanelli, Gerald Chanques, Daniele Natalini, Eleni Ischaki, Danielle Reuter, Indalecio Morán, Béatrice La Combe, Federico Longhini, Andrea De Gaetano, V Marco Ranieri, Laurent J Brochard, Massimo Antonelli, RINO trial study group
Banner Butlleti Sant Pau Ara