null Els limfocits T precocment diferenciats prediuen pronostic en pacients amb pneumonia
Events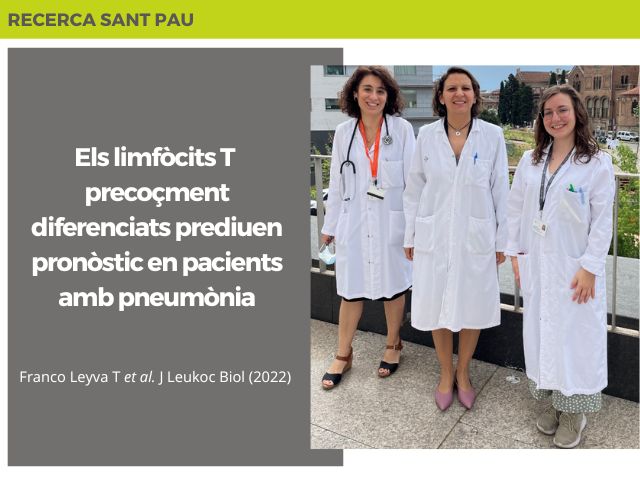 28/07/2022
Els limfòcits T precoçment diferenciats prediuen pronòstic en pacients amb pneumònia
Investigadores de l'Institut de Recerca de l'Hospital de la Santa Creu i Sant Pau - IIB Sant Pau i del Servei d'Immunologia i la Unitat de Geriatria del Servei de Medicina Interna del mateix hospital han identificat que l'augment dels nivells de limfòcits T CD28+ CD27+ precoçment diferenciats s'associa amb un millor pronòstic en els pacients de més de 65 anys que ingressen per una pneumònia.
Així es desprèn dels resultats d'un estudi prospectiu -realitzat en el marc d'un projecte FIS de l'Institut de Salut Carles III- que publica la revista Journal of Leukocyte Biology, les autores principals de la qual són Laura Martínez Martínez, Olga H. Torres i Teresa Franco -Leyva.
Aquestes investigadores han pogut comprovar que els malalts que tenien un recompte més elevat d'aquestes cèl·lules del sistema immunitari al moment del seu ingrés a l'hospital tenien millors índexs de supervivència, així com una taxa de reingrés menor, tant als dos mesos com a l'any de seguiment.
Aquestes troballes posen sobre la taula que els nivells de limfòcits CD28+ CD27+ precoçment diferenciats podrien ser un biomarcador que podria ajudar a estratificar millor el risc i fer un millor seguiment d'aquests pacients.
El treball analitza dades de 97 pacients ingressats a l'Hospital de Sant Pau durant els anys 2019 i 2020.
Franco-Leyva T, Torres OH, Saez Prieto ME, et al. Early differentiated CD28+ CD27+ T lymphocytes as a biomarker for short and long-term outcomes in older patients with pneumonia. J Leukoc Biol. 2022;1-8.
Banner Butlleti Sant Pau Ara