null 50 aniversari servei urgencies
Events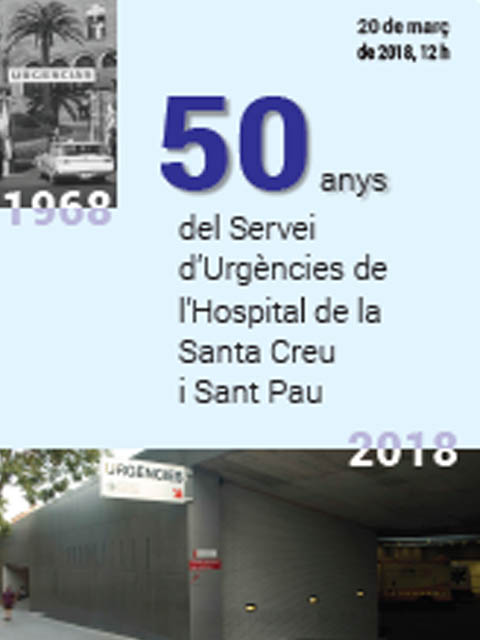 19/03/2018
El Servei d'Urgències de Sant Pau, pioner a tot l'Estat, celebra el 50è aniversari
El Servei d'Urgències de Sant Pau celebrarà el seu mig segle amb un acte commemoratiu, el dia 20 de març, en el que participaran les autoritats i els professionals que al 1968 van fer possible aquesta nova organització de les Urgències a l'Hospital. També l'Arxiu Històric de la Fundació Privada de l'Hospital de la Santa Creu i Sant Pau ha organitzat una exposició que recull tota la vida del Servei en la seva antiga ubicació al Recinte Modernista, que es podrà visitar gratuïtament del 20 de març fins al 20 de juliol.
El Servei d'Urgències de Sant Pau va obrir les seves portes l'octubre de 1967, però es va inaugurar oficialment el febrer de 1968. En un moment on els països lluitaven per reformar el seu sistema sanitari, modernitzar-ho, i oferir per primera vegada atenció urgent real als seus ciutadans, el Servei d'Urgències de l'Hospital de Sant Pau va néixer com el primer de Catalunya i de l'Estat, i el més modern d'Europa.
Prèviament i en aquell context històric, l'abril de 1966 el Dr. Carles Soler Durall va presentar el projecte per a la realització d'un Servei d'Urgències a la junta de la Molt Il·lustre Administració de l'Hospital de la Santa Creu i Sant Pau, que s'havia d'ubicar en els soterranis del Pavelló de l'Administració del Recinte Modernista. Per tal d'organitzar i dotar d'un Servei d'Urgències punter i modern, un grup de metges de l'Hospital, que incloïa el Dr. Vicenç Artigas Raventós, primer director del Servei d'Urgències, van visitar hospitals de tota Europa en els que estaven funcionant diferents dispositius. Les tecnologies i la organització més puntera d'aquell moment és la que es va incorporar al disseny del nou Servei d'Urgències de Sant Pau.
Avui dia, l'Hospital de la Santa Creu i Sant Pau i el seu Servei d'Urgències és referent com a centre d'atenció especialitzada terciària i d'alta complexitat. Ubicat des de 2009 al Nou Hospital, segueix evolucionant i treballant per a ser referent en assistència, docència, innovació i recerca, i vetlla per fer accessibles les seves prestacions als ciutadans i garantir una atenció de qualitat.
Reconeixement i guardons al Servei d'Urgències de Sant Pau
En el darrer any el Servei ha rebut diversos reconeixements que exemplifiquen la continua recerca d'estratègies organitzatives innovadores i de futur per adaptar-se a les noves necessitats de la població, tot mantenint l'excel·lència:
Premi Best in Class 2017 al Mejor Servicio de Urgencias en Atención al Paciente. Busquem una atenció que situï el pacient en el centre, ajustada als principis ètics de la pràctica clínica, eficient i resolutiva, experta i professionalitzada i amb garanties de qualitat, capaç d'adaptar-se a les necessitats clíniques, socials i funcionals en cada cas.
Premi Unió Catalana d'Hospitals en Innovació en Gestió 2017 al Programa d'Atenció a la Fragilitat del Servei d'Urgències. Hem desenvolupat un Programa que busca una atenció urgent adaptada en la població més vulnerable. Combina la implantació d'una avaluació geriàtrica integral a urgències que guia les decisions clíniques, una àrea dins del Servei estructural i funcionalment adaptada a la fragilitat i un treball col·laboratiu i en xarxa amb la resta de proveïdors de l'AIS Dreta (Centres Sociosanitaris – Nou Hospital Evangèlic, Hospital Mutuam Güell, Hospital Hestia Palau, Hospitalització a Domicili AIS-Dreta, Equips d'Atenció Residencial, PADES, Atenció Primària).
Finalistes a "Excellence Award for Leadership and Management in Healthcare category of the 2017 International Awards of the International Hospital Federation, 41st IHF World Hospital Congress". Pel Treball en xarxa, integrat i col·laboratiu en l'AIS Barcelona Dreta. Hem organitzat una atenció als processos urgents i emergents integrada i compartida amb l'Atenció Primària i la resta de proveïdors de salut del nostre territori (AIS Barcelona-Dreta).
Acreditació a la qualitat metodològica i l'impacte positiu generat en la organització de la metodologia de millora continua promoguda pel Procés d'Atenció Urgent (2017, Observatori d'Innovació en Gestió en Salut, Agència de Qualitat i Avaluació Sanitàries de Catalunya – AquAS, del Departament de Salut de la Generalitat de Catalunya). Busquem l'excel·lència en l'atenció a les Urgències i Emergències, oferint la màxima qualitat i incorporant de forma contínua la innovació científica i tecnològica més puntera.
Premi Mutuam Conviure 2017 al millor projecte de recerca: Atenció Geriàtrica Integral en un Servei d'Urgències Hospitalari. Repercussió sobre la salut dels pacients i la gestió de fluxos després de la implantació a Urgències i la Unitat d'Estada Curta.
Banner Butlleti Sant Pau Ara