null ed-Nieto Garcia Jose Ignacio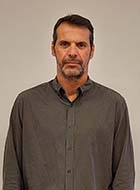 José Ignacio Nieto García
Director of Information Systems and Management
Technical Engineering Degree in Management Informatics from Universitat Autònoma de Barcelona, with Vocational Training in Electricity, and Image and Sound. He also has additional broader training, focused mainly on information and communication systems and on programming.
His function consists of designing and facilitating the development of patientcare and clinical processes via information systems, providing digital and information tools to improve patient care, and taking part in research projects to improve patientcare and clinical practice.
He has extensive experience in the health care sector, particularly within the Catalan Institute of Health, where he has worked since 2002. For 5 years, he was Head of Projects at Vall d'Hebron University Hospital, overseeing the operation and maintenance of the hospital's computer systems. In the same hospital, he was also Head of the Systems and Communications Department for 2 years and, later, deputy director of IT for 11 years.
In 2015, he became IT Systems Director of Southern Metropolitan Regional Management of the Catalan Institute of Health, consisting of Bellvitge University Hospital, Hospital de Viladecans, and all the primary care of the Southern Metropolitan Area, and, in 2019, he became IT Systems Coordinator of ICS, from where he joined our hospital as Director of Information Systems and Management.
Banner Butlleti Sant Pau Ara