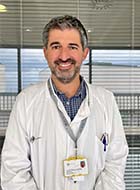 Alfons Torrego Fernández
Medical Director
Specialist physician in Pneumology. Final Residency Award in 2000. He has worked at the Hospital Clínic de Barcelona, ??at the Royal Brompton Hospital in London, and since January 2006 he has been a staff physician at the Pneumology and Allergy Service at the Hospital de la Santa Creu i Sant Pau, lately as Clinician Chief of the Bronchoscopy and Pleural Procedures Unit.
He was a visiting tutor from 2009 to 2019, and has taken part in several hospital committees, of which it should be highlighted the Presidency of the New Diagnostic and Therapeutic Technologies Committee. In addition, he was elected president of the Board of Directors of the Faculty Body of the Hospital de la Santa Creu i Sant Pau, from 2014 to 2016.
In the pneumology field, his healthcare work has been developed in the areas of interventional pulmonology, severe asthma and lung cancer, and he has been a pioneer in the introduction of bronchoscopic techniques such as lung cryobiopsy, bronchial thermoplasty or bronchial electromagnetic navigation. He was awarded Young Pneumologist of the Year by the Spanish Society of Pneumology (SEPAR). He has been coordinator of the Bronchoscopy Working Group of the Catalan Society of Pneumology (SOCAP, for its Catalan acronym), as well as president of the SEPAR Scientific Committee and is currently the coordinator of the Techniques and Transplantation Area of this society.